Congratulation Dave Graham
Congratulation to Dave Graham from Hurst Construction on receiving a CAVUNP coin. Presentation was made by Rich Wright CAVUNP National President. Dave played a crucial role in helping with the Peacekeepers Park memorial Wall. Picture taken at our General Meeting on Wed 16 Oct 2019.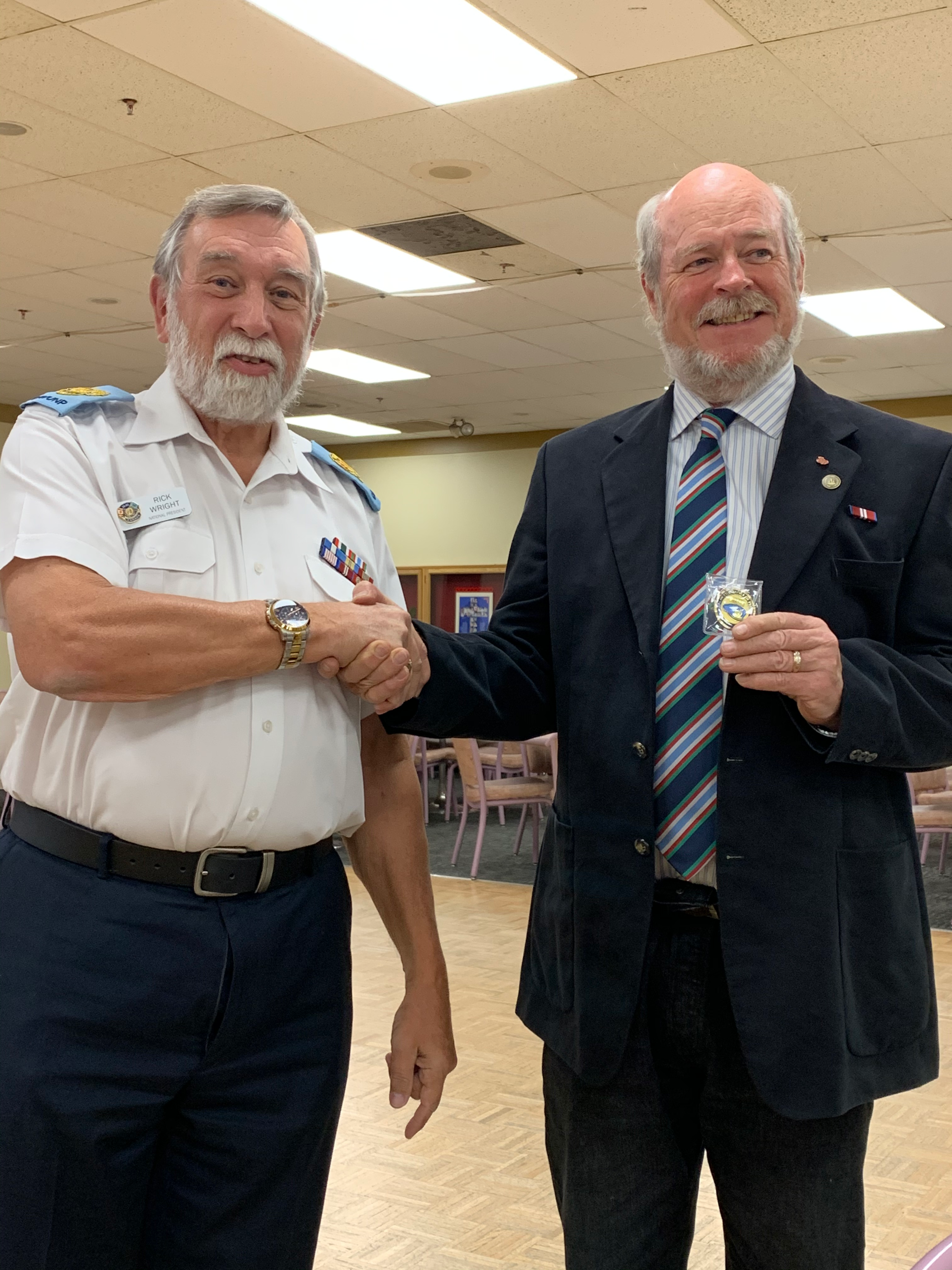 CAVUNP took part in the 2019 Calgary Stampede
(Thanks to Rick and Linda Wright for all their hard work in getting this organized)
Commemorating the 100th Anniversary of the Stampede Victory Parade

On June 28th 1919, the Treaty of Versailles was signed, formally ending WWI, the "war to end all wars". This terrible conflict left 61,000 Canadians killed and 172,000 returning veterans, many of whom were broken in mind and body. One year later, Calgary honoured Canadian WWI veterans in its Stampede victory parade.
This year, on July 5th 2019, the Calgary Stampede parade once again commemorated the 100 year anniversary of the end of WWI, by displaying two floats carrying 24 of today's Canadian veterans, including veterans of WWII (several dressed in period uniforms), the Korean war, veterans of NATO forces in Germany during the Cold War, United Nations Peacekeeping and Peace Enforcement veterans who served in troubled areas around the world, including the Middle East, the Congo, Bosnia, Croatia, Haiti, Cyprus, Rwanda and Afghanistan. Honourary parade Marshal commemorating the WWI veterans remembered in 1919 at the 2019 Stampede parade was Brigadier General Stephen Lacroix.
According to parade officials, organizers and media reports, the response from Calgarians who gathered all along the parade route were extremely enthusiastic with their show of respect for the veterans who participated in the parade, confirming once again that Canadians do care about their veterans. It was noted that as the floats carrying these veterans passed, many of the people along the route immediately stood showing their respect and appreciation, some removing their hats. For the proud veterans involved the experience was very gratifying.
A very big thank you must go to Stampede Committee Sub Chair Jennifer Evangelista whose idea to commemorate the 1919 parade was brought to Major (Ret'd) Linda Wright who then organized the veterans participation in the 2019 Stampede Parade. The veterans breakfast planned had to be rearranged and the Hilton Garden Inn under manager John Flegg very graciously provided a delicious meal for the veterans before they joined the parade. We must also sincerely thank the dozen or more military cadets who escorted the floats carrying the veterans. Considering that the rain stopped the evening before the parade, the entire event when on without a hitch and will be remembered for many years by the veteran participants.
L. (Tex) Leugner, CD, Warrant Officer (Ret'd).
CAVUNP President Robert Titus presented a cash donation to the Veterans Association Food Bank on behalf of CAVUNP Calgary Chapter. Thanks Tom Hamilton for the photos.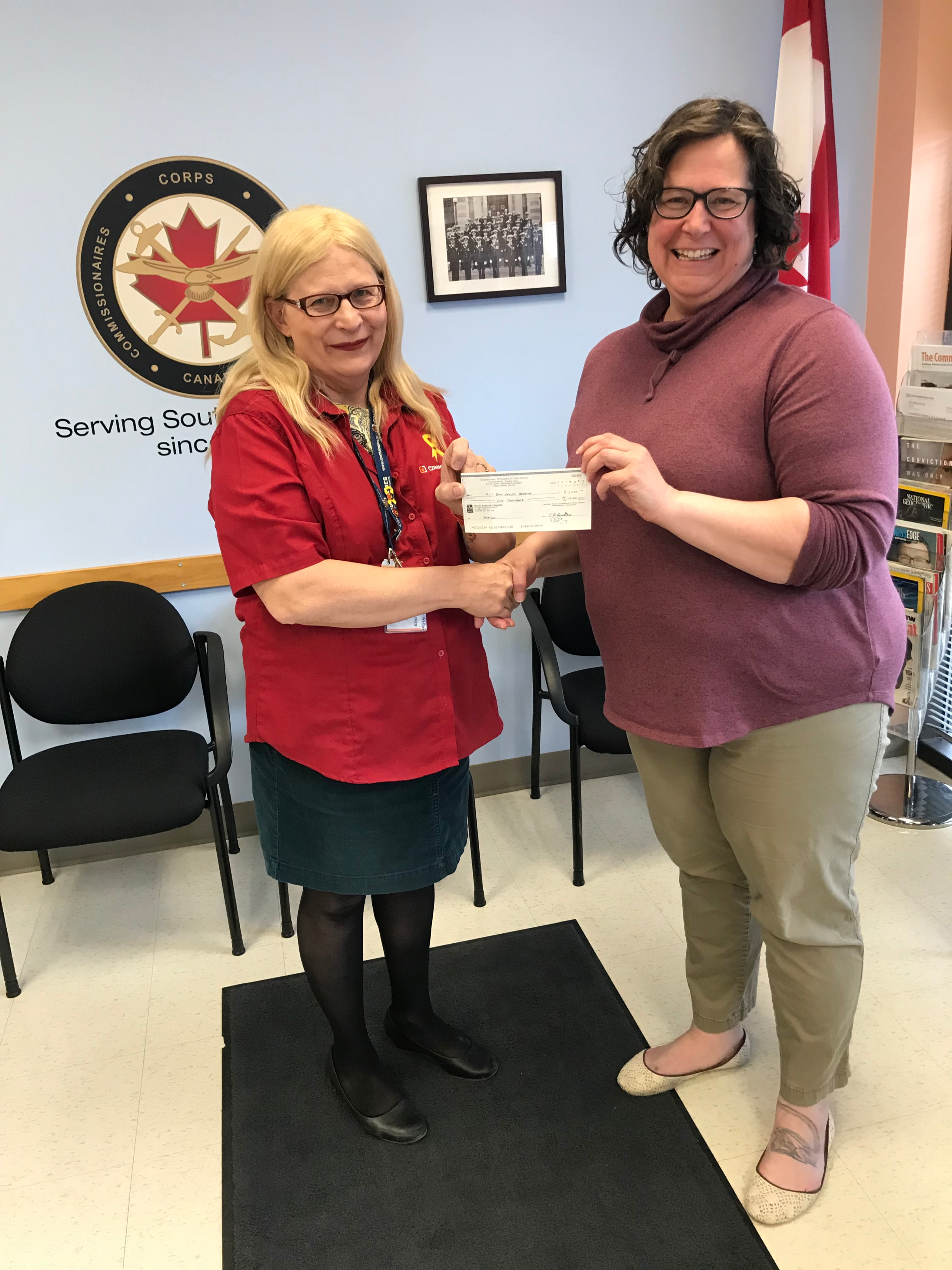 On Behalf of CAVUNP Calgary , Danielle presented a $1,000 donation to Slt(NL) Michelle Turner Commanding Officer NLCC John A. Hamilton #166
25 Apr 2019 Anzac Day at the Central Memorial Park Calgary
13 Apr 2019 Canadian Sovereign Medals & UN Challenge coins presentation to CAVUNP Members

20 Mar 2019 General Meeting