Quilt of Valor Presentation 21 Nov 2020
2020 Remembrance Day Ceremony at Peacekeepers Park in Calgary Alberta. Thanks Linda for taking those pictures.
Cheque donation to the Veterans Association Food Bank. Presented by CAVUNP President Calgary Chapter Bob Titus.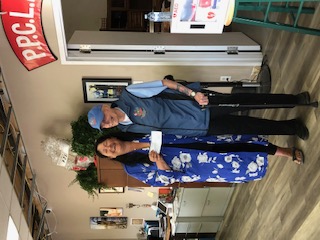 It was a good visit to see the scope of what they do. Not only do they collect and distribute food but they have furnishings to help veterans move into their own places, they help vets with their needs and referrals to places like VAC. They will soon be opening a thrift shop. While doing all this they depend on groups donating monies as they have not received any monies from the government - they have applied but have yet to have any of their applications be accepted .
We had a nice tour out of CAVUNP members and we stayed to enjoy a nice supper. They have a supper for the vets every Thursday evening.