Calgary Chapter Peacekeeper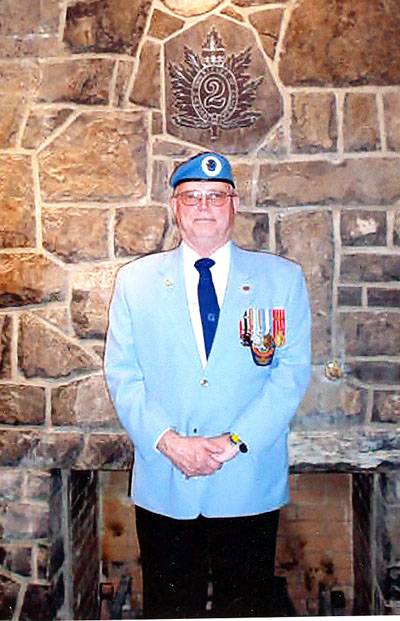 Robert F.M. Titus CD
Canadian Association of Veterans
In United Nations Peacekeeping
Born: - June 1940, in Strathroy , Ontario
Prior Military
- Attended St. Mary's and Pauline Johnson Collegiate and Vocational School in Brantford, Ont.
Military
Enlisted in the Canadian Army (Regular) on 9 December 1957 at London , Ont. and completed history basic training with the Queen's Own Rifles Depot at Calgary , AB

On completion of basic training, I was posted to the 1st Bn QOR of C.

Posted to the 2nd BN QOR of C, in Fort McLeod at Hemer, Germany

Returned to Canada in December 1960 and rejoined the 2nd Bn QOR of C in Calgary , Ab

Appointed L/Cpl on Sept 1960

Promoted to Cpl, 15 Sept 1963

Served in Cyprus , April to October 1967

Posted to CFB Borden, Ont at Combat School , Sept 1968

Promoted to Sgt, 1 Nov 1969

Posted to Combat Arms School at CFB Gagetown, Ont, in Sept 1970

Posted to 1PPCLI at Calgary , Ab, in Sept 1972

Posted to CFJLS at CFB Borden, Ont, in Aug 1975

Promoted to WO, Feb 1976

Posted to 1PPCLI, Calgary , Ab

Posted to RSS Prairie Region ( Calgary Highlanders), Sept 1982 to 1987

Posted to RHQ 1PPCLI, Calgary Ab

Retired from active service, Oct 1987, and was on leave until May 1988
Medals

Awarded:
SSM (Peace), CPSM, UNCYP, CD 1st clasp.
Civilian:
Employed with the Canadian Corps of Commissionaires during the 1988 Olympics at the Calgary Internation

Airport

Employed with Canada Post from March 1988, until retirement in Sept 1998
Associations: Charter member of CAVUNP and held the position of Vice-President and President since 2003