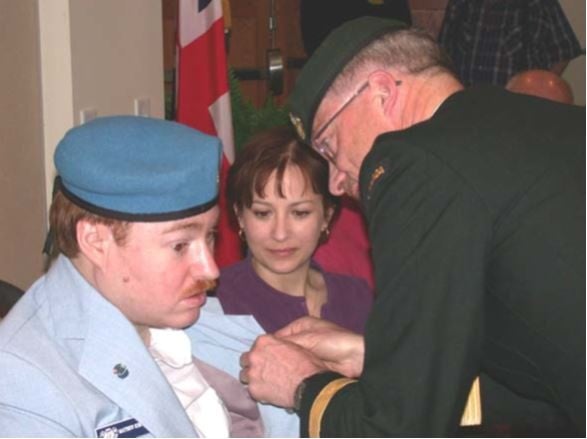 Former Corporal MATT SCHOVANEK
Receives Recognition and $250,000 for Personal Sacrifice
Corporal (retired)
Matthew Schovanek
Matthew and his sister with Brigadier-General Ivan Fenton.
was honoured at a moving one-hour ceremony hosted by the Canadian Association of Veterans of United Nations Peacekeeping (CAVUNP) at Carewest Colonel Belcher on April 21st. In October 1994, Matthew Schovanek was an energetic 24-year-old Royal Canadian Regiment corporal serving with the United Nations Protection Force (UNPROFOR) in Bosnia and Herzegovina. He suffered near-fatal head injuries when his armoured personnel carrier rolled while on patrol near Srebrenica, Bosnia. The accident caused serious brain damage to Schovanek's frontal lobes, injuries that have required
reconstructive surgery, years of physical therapy and immeasurable support from his family and friends.
At some point, Schovanek's case fell through the administrative cracks. "He was lost (in the system)," said Major (retired) Bruce Henwood, who lost both legs to a landmine while serving on a United Nations mission in Croatia in 1995. The CAVUNP took up Schovanek's cause when it
realized he was eligible to receive money from Veterans Affairs Canada (VAC) and also noticed he had not received several medals for which he was due. Colonel (retired) Don Ethell pleaded Schovanek's case in Ottawa several months ago, resulting in a cheque from VAC within days. Major (retired) Henwood and Art Hanger, Member of Parliament for Calgary Northeast, presented Schovanek
with a $250,000 cheque from the federal government. "Compensation doesn't replace or offset what was
lost," said Major (retired) Henwood. "It's a way for the Government of Canada to say 'thank you' for
services rendered." Bob Titus, President of the CAVUNP Calgary Chapter, presented Schovanek with a U.N. blue beret, a CAVUNP jacket, membership card and pin. Brigadier-General Ivan Fenton, Commander of Land Force Western Area, presented the former soldier with two medals – the
UNPROFOR medal and the Canadian Peacekeeping Service Medal. "We hold high the torch you've passed to us, Matt," said Brigadier-General Fenton. "We are following very, very big footsteps." Greg Prodaniuk, a peer support coordinator with VAC who soldiered with Schovanek in the early 1990s, presented his friend with a crisp beret and cap badge on behalf of the Royal Canadian Regimental Association. "A lot of guys were asking about him," said Prodaniuk, "and I'll make sure I get the word back." An emotional Randy Graf, Mr. Schovanek's primary caregiver and brother-in-law, expressed his family's deep appreciation to the many organizations involved in putting this event together. "Thank you to all the people who stood on their heads to make this happen," said Graf. "Thanks to all of you who helped get Matt back on his feet." Graf plans to purchase a van with a wheelchair lift so
Schovanek can travel around town more easily. By Major Scott Lundy, Area Public Affairs Officer for
Land Force Western Area, with a file from Bill Kaufmann, Calgary Sunal online.
This album has photos from years back (2004 to present) we will be adding more photos in the near future.